NB-IoT Steps into the Golden Commercialization Age in the Smart Gas Field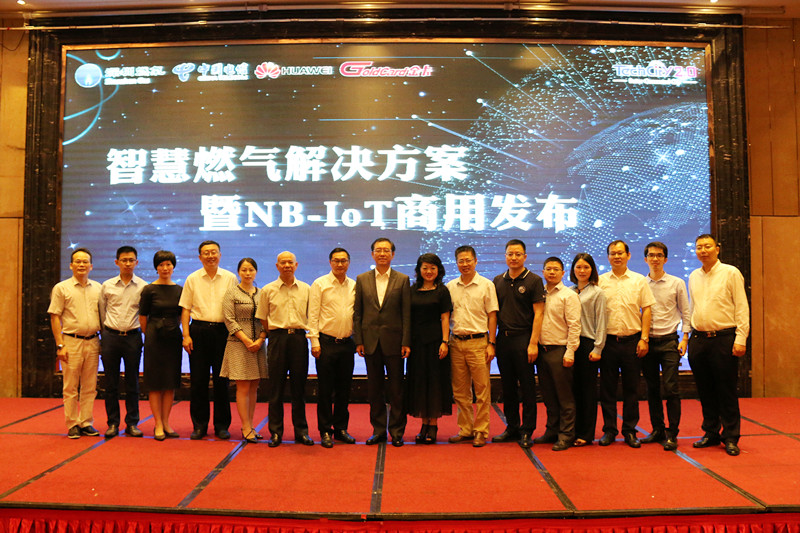 [September 12, Wuhan, China] The smart gas solution and NB-IoT commercialization conference was held in Wuhan. This conference was sponsored by Shenzhen Gas and jointly held by China Telecom, Huawei, and Goldcard. Mr. Chi Guojing, Secretary of China Gas Association, made a speech for this conference.
Mr. Song Luchuan, Director of Huawei's LTE industry development department, started his speech with the 'Internet of Everything', analyzed the development of the NB-IoT industrial chain, and introduced advantages of NB-IoT, that is, deep coverage, low power consumption, large capacity, and high security etc.. Ms. Guo Jin, General Manager of Huawei's OceanConnect IoT platform, introduced six highlights of the OceanConnect IoT platform and said that Huawei's industry development plan was to go deep into the gas industry and assist in gas digitalization and mass application.
Mr. Zhaojianjun, General Manager of China Telecom's Internet of Things branch, said that NB-IoT emerged right at the moment to meet differentiated network requirements in the era of the 'Internet of Everything' from the aspect of new network, new mode, and new era. China Telecom will assist in the development of the smart gas industry by building a new-type industry ecosystem.
Mr. Chen Qiuxiong, Vice President of Shenzhen Gas, introduced achievements of the first NB-IoT smart gas metering application in the world. Since the pilot project of the NB-IoT smart gas solution was launched in Shenzhen in March 2017, the 100% one-time metering success rate and 100% metering accuracy are kept. NB-IoT technologies outperform traditional metering technologies in many aspects, including network establishment and O&M, communication security, power consumption, and development trend.
High metering success rate and accuracy, stable performance, and secure data transmission indicate that the NB-IoT smart gas solution has become mature and stepped into the golden commercialization age.
Mr. /Ms. Lizhen – Chairman of Shenzhen Gas, Ms. Li Linmei – Vice General Manager of China Telecom Shenzhen branch, Mr. Lv Xiaofeng – Director of Huawei's wireless network industry development department, and Mr, Yangbin – Chairman of Goldcard jointly started the first commercialization project of NB-IoT smart gas metering in the world, witnessed by Mr. Wang Tianxi – President of China Gas Association, Mr. Liu Heming – inspector of MOHURD, Mr. Li Yanqiang – Secretary of
China Gas Society, Mr. Chi Guojing – Secretary of China Gas Association, Mr. Xu Tieliang – Board Chairman of China City Natural Gas Investment Group, and leaders and experts from other gas enterprises.
Based on the achievements of the pilot project, the four parties drafted the standards of NB-IoT-based smart gas remote metering systems to standardize related application development in the gas industry. In this conference, Shenzhen Gas, China Telecom, Huawei, and Goldcard jointly released the NB-IoT smart gas solution whitepaper. In this whitepaper, the problems and challenges in the Chinese gas industry are deeply discussed, and the smart gas solutions based on the IoT platform and NB-IoT technologies are proposed, including values, business modes, and practice. Ms. Wang Zhe, Vice President of Goldcard, introduced the whitepaper on behalf of the four parties. As the first technical material that systematically elaborates the smart gas industry, the release of the whitepaper is significant in the deployment of NB-IoT smart gas solution that proposed by gas enterprises and telecom operators, as well as in the promotion of the commercialization of smart gas.